#MedTech Interviews
The State of MedTech Funding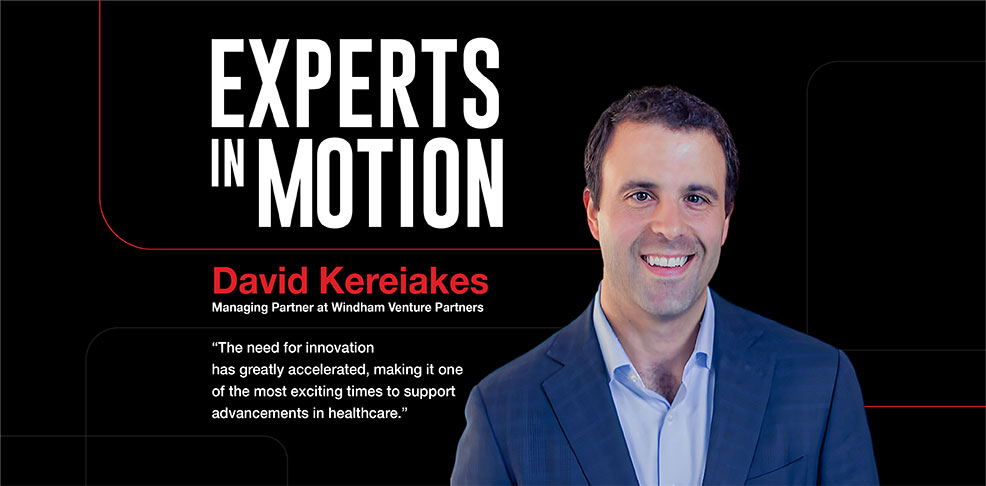 An Interview of David Kereiakes, Partner at Windham Venture Partners by F. Javier Perez, CFA
While notoriously difficult even in the best of times, MedTech funding is down significantly in 2023 from the highs of 2021. As reported by Pitchbook, the first half of 2023 saw a total value of $5.3B and 372 deals in venture capital MedTech funding, compared to $19.7B and 1,056 deals in 2021. This new reality has created a tough environment for many companies in the space, especially in the earlier stages of development.
In this interview, BlackPoint Capital director F. Javier Perez is joined by David Kereiakes, Partner at Windham Venture Partners, to offer his view on the current state of MedTech funding. As an investor, board member, and advisor, David has helped support talented healthcare entrepreneurs to realize over $1 billion in value. David recently joined Windham Venture Partners, a VC fund that has been active in MedTech and Healthtech investing for over 15 years.
Before we get into today's topic, tell us a little bit about yourself and Windham.
I come from a family of providers. There are 15-20 doctors, nurses, and scientists on both sides of the family. So, healthcare has always been familiar and of interest to me. I certainly thought about it as well and figured I could have as big of an impact not only on patient care but on those delivering care from where I sit today.
I've been investing in healthcare for 13-14 years, mostly in medical devices as well as software and digital health, and then increasingly the convergence between the two in tech-enabled devices and health tech. I joined Windham recently, which also has a similar focus on venture healthcare and driving innovation in medical devices, software, digital health, and diagnostics. Prior to joining Windham, I helped lead Providence Ventures, which is the investment and innovation arm for Providence, the third largest nonprofit health system in the country, where I was involved in all sorts of technology reviews as well as strategic discussions on the direction of the system and helping to manage our response from COVID, staffing shortages, the inflationary environment and persistent challenges over the past couple of years.
I was listening to a podcast interview that you recently did, and you kind of described the current healthcare landscape as "turbulent." Can you elaborate on what you meant?
The overall healthcare system is turbulent.
There are a lot of financial pressures, a lot of shifting landscapes, and new competitive entrants that are making what feels like a forest fire in a 1,000-year-old forest that has greatly accelerated innovation, making it one of the most exciting times to invest in healthcare. This is how things have always been done.
Mentality is starting to change, and I saw that firsthand while working within Providence, where departments that hadn't adopted or looked at anything new or novel were eager to take on that risk and bring on those offerings just because the system and the environment had become so competitive and necessary to bring on innovation. I think it's one of the most exciting times to be where I am. So, being intellectually curious and entrepreneurial really just makes this a dream job.

Looking at the current MedTech funding landscape, the number of deals is down, and the dollar amounts are down. Can you describe the current state of MedTech and Healthtech funding?
Device investing is hard and device entrepreneurs face challenges that others don't. There are seven or eight buckets of risk that I use to gauge in evaluating MedTech investments. It's management, market size and competitive dynamics, ability to execute, reimbursement, regulatory, supply chain and distribution, manufacturing, and then last IP and technology risk.
You can usually take two buckets of risk. That third bucket of risk just becomes too unstable and too much risk, from my standpoint, to appropriately price an investment that is acceptable to everybody. So that's how I view the world. I think devices have seen a depression in funding and companies are having to drive greater efficiency and extend the runway as best they can in MedTech.
Healthtech is kind of a unique area where device investors may not have full comfort or just get up to speed on tech and digital health and software. And so, they tend to look for another syndicate partner to help or may not venture away into something that has to integrate into the EHR and has the longer sales cycles that naturally plague software companies. Software investors have a hard time with regulatory risk and reimbursement risk and often don't like taking it.
This means there's even a smaller investor universe that's comfortable with going into an OR and speaking with a surgeon on the application of a particular tool as equally comfortable as going to the chief digital officer or the head of IT and talking about software integration or patient-facing and engagement solutions. That class of investors is even smaller. But we are excited about that being an area of growth, really enabling devices to help inform clinical decisions and clinical pathways that are better for the patient, that are lower cost for the provider and the payer, and ultimately drive better outcomes.
That's what we're excited about. But it is a very challenging environment in that vertical as well as devices in general.
What has changed, or what does a company need to do today to raise capital versus, let's say 2021? Has the bar been raised? What's driving the investment decision today versus two years ago? 5 years ago? 10?
When you compare it to two years ago, yeah, absolutely, the bar has been raised.
It is very different now. But two years ago, was a state of euphoria and I think a disconnect from the market. It was a very different time. When you look at 5-10 years ago, this is very normal. And the entrepreneurs that have done it a few times will also attest to that. But you must be efficient. This is costly capital, and you have to be able to hit certain milestones after you take on this capital that is best for all shareholders. Discipline has returned to the market, driving greater and more meaningful ROI, both economic and clinical, and outcomes have become increasingly more important. And the environment that you're selling into has changed too. The customer, the provider, the clinic, and the ASC are all in a very different position than they were 5-10 years ago from a financial standpoint.
The move to value-based care, although slow compared to other industries, is happening at a rapid glacial pace here in healthcare, such that it is starting to enter its way into these purchasing decisions. You can no longer just sell specifically or only in a fee-for-service environment. And I think it's for the better to be able to prove that you can lower costs, that you drive greater efficiencies in the system, and most importantly, you are better for the patient, and you can own those outcomes across the board by the moment your device is used or whether it's not, and really differentiate yourself there.
How do you see the malaise in the M&A and IPO markets impacting the overall funding landscape? Exit opportunities are harder to come by and most MedTech M&A deals in 2023 are divestitures. How do you see that evolving over the next few years?
It's coming back. I believe it is starting to get better, and there are signs of that. I think it has been a challenging environment for the past 18 months, and rightfully so. A lot of the acquirers took a step back, but you've seen it, and I certainly am seeing it in the companies that I'm involved with getting kind of unsolicited inbound interest. That is different.
And if you talk to any other investment banker, they too will tell you the kind of work that they're doing is not just running comps or running landscape analysis; it's actual material diligence. I think their companies are starting to come back into the market to acquire. It's true there are fewer companies, and there is a greater discipline that has survived and there's a greater discipline in being accretive and not burning capital at the time of an acquisition. I think, ultimately, it is a healthy ecosystem or on its way back to being a healthy ecosystem again.
As you've mentioned, it's not all doom and gloom, and the current environment obviously offers certain opportunities. And where you're sitting today, certainly that's the case. Are you seeing specific areas within the MedTech space that are receiving more attention? What kind of opportunities or technologies make you really excited today?
I will speak more generally than just MedTech. I think devices that can help enable a better-quality procedure, particularly a planned surgical event, are able to identify and better qualify the patient on the front end and get visibility into data to help drive those clinical decisions. That clinical pathway is increasingly important. Being able to move procedures to a lower cost setting where you can discharge the patient on the same day and have greater predictability into how the patient will tolerate that surgery and then post-op, being able to engage and assure that they are adhering to the care plan to really drive a better outcome.
That is a really interesting place where devices can help enable and play a big role. I think software is increasingly becoming more and more important for medical device companies to understand how to utilize and how it can help enable and steer the patient, the right patient at the right time again, in the right place, which helps the provider as well in preserving and maintaining their margin, which is ever decreasing and becoming compressed. There is no shortage of problems in healthcare, which means that this is an exciting time to be investing in the space.
Constant change does offer lots of opportunities. How do you see the companies that you're talking to incorporating AI into their offerings, into what they're doing, into their future plans?
It's not new by any means, and the term is thrown around far too often. I think it oftentimes can be forced. I've said this before, it's okay to have a dumb device. It's okay to have a device that doesn't speak; that is just a better, faster, cheaper device. And you don't have to force it to talk or pull data out of a particular procedure. Sometimes that's not needed. Knowing what is needed and for whom is really the biggest question that, as a device company, you must ask yourself. What does this visibility and insight allow and enable the care team or those making the clinical decisions to drive better outcomes or lower costs? So, there are huge opportunities to pull data and unique insights pre-op, inter-op, and post-op. But you need to try and figure out the purpose of it and what you are trying to get out of it before.
The sales cycles can be very extensive when you're adding in software that has to get approved by OR teams, by the regional management teams of providers, the supply chain, and the IT integration. It can be a really challenging selling environment to operate within. But ultimately, if done in the right way, where you're pulling quality data out, and you're analyzing quality data, you'll get some quality outcomes to be able to inform a lot of these decisions and enhance the offering.
The focus of the MedTech Digest is driving momentum. So how do you drive momentum in your personal life and in your organization?
By always being willing to take the time and listen.
I think it's important, just given the challenges and how daunting the trek is, for an entrepreneur to be helpful and to learn from experiences so you don't have to watch them repeat the same mistakes. In doing so, you just drive greater efficiency and far less money spent. Spreading knowledge and being available, always looking at and interested in what's new too, is something that's fascinating. Whether it's an actual investment opportunity or not, you really have to have a passion for healthcare in order to find this job interesting and worth getting up to because I'm incredibly privileged to be able to do what I do.
It's exciting that it's something new every day, and there is no greater way to impact and influence your neighbor and the community that you live in, particularly given the state of vulnerability that people find themselves in when health care is needed or just allowing them to live their best life. It's important to always be open and able to work together and offer support.
If you're interested in getting to know David more, follow him on LinkedIn and don't forget to visit the MedTech Digest LinkedIn page for more Experts in Motion.